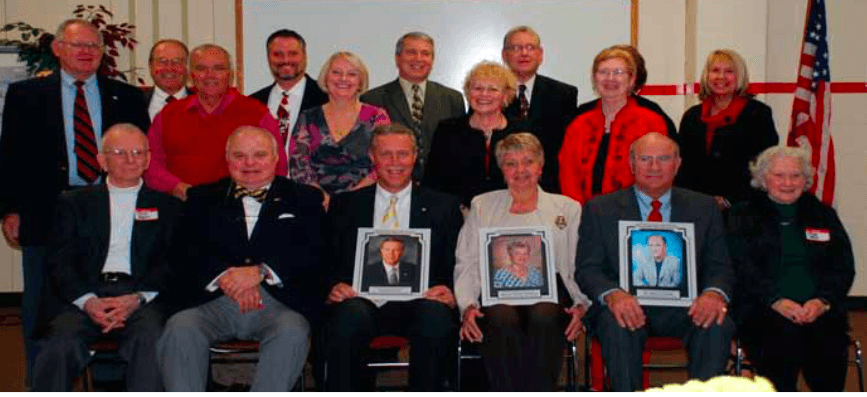 Hall of Fame Inaugural Inductions 2013
Jim (1951) and Carol (Lisy)(1954) Bartel
For more than fifty years Jim and Carol have devoted their time and talents to community service projects for the city of Parma. Jim worked as an air traffic controller and real estate salesman. Carol worked in the main office of Parma Senior High School and has been active with the PSHS Alumni Association.
Karen A. Eterovich (1979)
Karen has garnered national and international acclaim in the world of theater as an actress, director, and playwright. She has recently been focused on scholarly study of Jane Austen. Her passion for activism has driven Karen to promote equality for women in theatre.
Nancy Ann Fedak (1966)
For thirty years, Nancy taught Physical Education for the Parma City Schools during which time she developed a gymnastics program and wrote PhysEd curriculum. Nancy has been a tireless supporter of her Alma Mater, giving generously of her time, talent, and treasure. She assumed leadership positions in the Parma Senior High School Alumni Association, Parma City Schools Foundation, Byers Field Foundation, Ohio State Alumni Association, and other service organizations.
Gilbert M. Fritzsche (1965)
Gil, a U.S. Marine Corps Vietnam Veteran, enjoyed a distinguished twenty-eight year career as an industrial arts teacher and administrator with the Lakewood City Schools where he was recognized as "High School Teacher of the Year" and "Middle School Educator of the Year". Gil returned to his Alma Mater, serving as Principal of Parma Senior High School from 2000-2005. In 2016 Gil was inducted into the Lakewood Ranger Education Foundation Staff Hall of Fame.
Frank A. Herda (1966)
Frank was awarded the country's highest military award, the Congressional Medal of Honor, as well as the Silver Star, Bronze Star, Distinguished Service cross, and Purple Heart for gallantry in Vietnam. Major General Herda also authored The Star of Death, a Sci-Fi/Fantasy novel.
Dianna M. (Pavisich) Kall (1978)
Dianna has been a prominent figure in the field of marketing and public relations in the Greater Cleveland area. She has devoted countless community service hours in leadership positions with the Parma Council of PTA, Chamber of Commerce, PSHS Alumni Association, Parma Area Historical Society, and many other organizations.
Sandra L. (Kukis) Rowlett (1978)
Sandra has blazed a trail in the field of Air Traffic Safety. She is the first woman to hold a senior executive position in the Office of Aviation with the National Transportation Safety Board. She has also been active in community service projects, spearheading events that have raised in excess of $150,000 for childhood cancer research.
Robert Vasil (1962)
Bob enjoyed a sterlingthirty-seven year career with the Parma City Schools as a social studies teacher, administrator, and President of both the Parma Education Association and Association of Parma Administrators. Bob also authored a children's book, titled Benny, Lenny, and Al, Three Boy Chickens.