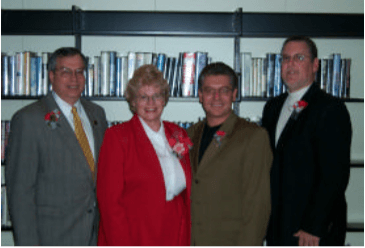 Hall of Fame Inaugural Inductions 2001
Marilyn Marquette Coleman (1953)
Marilyn has been a strong supporter of the schools and a tireless advocate for students. Marilyn served on the Parma City Schools Board of Education for fourteen years and a member of the PCS District Back the Schools Committee since its' inception 35 years ago. She supervised Lollipop Hops, Auctions, Hall of Fame Inductions, fund raisers, and levy campaigns. Marilyn has been a crusader for financial stability of schools. Her years of dedication to PTA, primarily in leadership positions at the elementary, middle school, and high school levels, as well as PCSD PTA Council, earned Marilyn a State Life award. She was instrumental in the formation of the Greater Cleveland School Boards Association. Community service activities include member and leadership positions with the Parma Area Chamber of Commerce and Friends of Byers Field, of which she was a charter member.
Charles Germana (1964)
Chuck's commitment to community service is extensive. Chuck has served on virtually every service organization in the city of Parma and has held a leadership position in most of them. He served 10 years as President of City Council, participated on the Parma Charter Commission, was active in the Proud of Parma Organization, the Chamber of Commerce, the Jaycees, Friends of the Libraries, Parma Community Hospital Foundation, and Safety Town. Chuck also has been a strong supporter of the Parma Schools, the Boy Scouts, and the Saint Bridget Parish. He was received many honors and awards, including "Jaycee of the Year" twice, and Parma Amateur Athletic Federation Community Service Award.
Tim Tomc (1971)
Tim has 26years as an educator with Parma City Schools at the elementary school level. He was involved in initiating ESL (English as a Second Language). Tim coached baseball at Parma Senior High School at the Jr. Varsity (10 years) and Varsity (11years) levels. Evidence of Tim's status among his peers include being selected to coach the Greater Cleveland Coaches Association All Star Game 4 times. He also served as President of Greater Cleveland Coaches Association and their Board of Directors. Tim assisted the Cleveland Baseball Foundation by presenting at clinics and at the Cleveland Indians Skill competitions. As a member of the Parma Moose #1744 Lodge, Tim coached their girls youth softball team.
John Michael Yurkiw (1972)
John worked in the Cuyahoga County Clerk of Courts office where he initiated the Victims of Crime program. He was also involved with the Community Development Department for Cuyahoga County. Through his business, John Michael Photography, he has generously contributed time and talent to support many school levies and School programs. The Back the Schools Committee recognized John as their "Citizen of the Year" award in 1985. Cox Cable honored him in 1997 with their "Spotlight Award" for his community service. John supported the PSHS Renaissance Program and can frequently be seen photographing PSHS school activities.