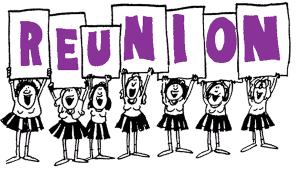 2019 Meet-ups

1948  Monthly for LUNCH at J Bella 1:30 3rd Thursday of the month. Contact: Dave Kane at 216-941-7572.
1949  The 2nd Thursday of the month 11:30AM at Michaels at State Rd. and Royalwood Contact Elaine Quint 440-843-3872
1951 Parma Schaaf meets for lunch 1st Friday of every month at Katherine's Restaurant     Contact Joan Kalat 440-843-9122
1952  contact Jean Walter At 440-582-3641
1955 Katherine's Restaurant Pearl Rd. 9 AM Bob Funk 440-476-6662
1956 The Parma Senior High Class of '56 holding its Quarterly Brunch the 3rd Saturday in March, June, Sept and Dec 11:30 AM party room at Fugi Grill 1930 Snow Rd. (at Broadview) contact www.psh.com or call Carol 216-676-4046 or Judy 440-237-0020
1958 Lunch 3RD Tuesday in April, May, June, July, August September, at Katherine's 12-3pm—contact John Tomko 440-799-2737 or Carol Gerhardstein at carolg712@sbcglobal.net
1959 The class of 1959 women meet the 3rd Thursday of the month at Dagneses Contact for information, Gerri Pofok. Men meet 1St Wednesday every month THE CLASS OF 59,WE ARE PLANNING A 60TH YEAR CLASS REUNION HOPEFULLY IN 9/2019–INFORMATION FORTHCOMING MARCIA SENDRY
1960 & 1961 Dinner every month at various Parma area restaurants. Contact Judy Love Girard @ 440-888-4911
HAPPY 75TH Birthday to the classmates of 1962. Join us at the 2019 Golden Redmen Reunion Aug 24th at PSH. Birthday party +Cake!
Reunions in Planning
1994 25th Contact Kelly Coates Harrington 17678 Eastbrook Tr Chagrin Falls, 44023
1999 20th Denise Fikar Constanzo den-root@aol.com
2004 15th Contact Kelly Kish 6428 Fordham Dr. 44129
2009 10th Contact Nicole DiVincenzo Rose 216-956-1932
Class of 1980 40th July 2020 date/time/location TBD Contact Michele Dene michele.dene@icloud.co Please contact the person listed for further information or www.pshalumni.org
If you are part of a reunion committee with information about your reunion or THE INFORMATION IS INCORRECT contact US AT pshalumni@pshalumni.org attn. JUDY SEVCIK GENCO '72 OR DEBBIEDIMAS AUDIE '76 or Char Eastin Rossi at parmaalumni@gmail.com to place on webpage.  OR MAIL TO THE PSH ALUMNI ASSOC.6285 W. 54TH ST, PARMA, OH 44129 ATTN Reunions.  It is the 25Th reunion for class of 1994 and the 50Th reunion for the Class of 1969, 60th for the class of 1959 and 70th for the class of 1949 CONGRATS*
1949 70th Elaine Quint 440-843-3872
1954 65th William Tuchek 6278 Hollow Ln. Medina, 44256
1959 60th CONTACT Bruno Tommasini -parmacookie1@aol.com
1964 55th Chuck Germana 8501 Evergreen Dr. 44129
1969 50th Contact Peggy Rericha Co-chair peggyrericha@yahoo.com or Billie Miller Cadwallader bimcadwallader@ aol.com
1971 50th Reunion info Contact Char Eastin Rossi  charrossi@gmail.com or 216-226-4884  Planning now for September 2021.  Save September!!  If your address has changed, please send it to Char.
1974 45th Brenda Babb Roth captn222@sbcglobal.net
1979 40th Cathy Smith Kornaker  razelberry@frontier.com
1984 35th Dawn Reed dawnyreed@aol.com
1989  30th  Mark Fortuna 1-773-8780
2019 REUNIONS
PSH Class of 1959  60th Reunion
The Class of 59 Reunion Committee is reaching out to as many alumni as possible to ask them to "SAVE THE DATES" for the 60th class reunion!
Friday Sept 6: American Legion,York Rd, Parma – party on the patio with pizza, beer and wine
Saturday Sept 7: Cleveland Yacht Club, Rocky River- late afternoon buffet
Sunday Sept. 8: Fraternal Order of Police Lodge, Brunswick – catered bar-b-que.
Please email Bruno at parmacookie1@aol.com if you are interested in attending 1, 2 or all the events so we could contact you with updates when the plans are finalized…price, time, etc.
We have a website you could go to –www.fairfaxmedia.com/psh and face book page – Parma Senior High Class of 59 you could Like, Share and Follow.
Thank you,
Bruno and Karla Tommasini
and the Reunion Committee
PSH Class of 1969   Our 50th Class Reunion is this August 8-11 at the Holiday Inn on Rockside Rd. If you know of any Classmates that have not gotten an invitation please we need addresses. Thank you!  Peggy Rericha Co-chair -peggyrericha@yahoo.com or Billie Miller Cadwallader bimcadwallader@ aol.com
PSH Class of 1974, 45th Class Reunion.
When: Saturday, August 3rd, 2019
Where: Tony Maloney's
9385 W Sprague Rd, North Royalton, OH 44133
Time: 6:00 PM until Midnight
Cost: $25 per person – thank you to Tony Maloney's for helping us make this an affordable event!
A postcard with all details and payment address will be mailed – PLEASE SEND YOUR RESERVATION AND PAYMENT AS EARLY AS POSSIBLE. We will need an accurate head-count so your reservation with payment is needed – thank you!
We'll use the list we updated for our 40th reunion. If you have moved within the last five years, please email your updated address to: PSH1974reunion@gmail.com.
If you have information on anyone from our class that you can share – updated address, life status, anything relevant that would help us locate class members, please contact us via email: PSH1974reunion@gmail.com. This email address will be monitored as often as possible.
Questions? Email us! PSH1974reunion@gmail.com
PSH Class of 1979
40th reunion, November 23rd, Saturday.  Weymouth Country Club, Medina, Ohio. Please contact Catherine Smith Kornaker on Facebook or razelberry@frontier.com with Change of address. Sending mailer in August with details.
Class of 1984– Parma Senior High School
35th High School Reunion…
Mark your calendars!
Saturday, July 27, 2019 (morning festivity)
FREE TOTALLY TUBULAR TOUR OF PARMA SENIOR HIGH – MAJOR MEMORY LANE TOUR
by our very own alumni and teacher
Tony DeMarco
8:45 a.m. – 11:00 TOUR BEGINS 9 AM SHARP!
Parma Senior High School
6285 West 54th Street
Parma, OH
FREE RAD COFFEE, DONUTS AND SUCH
IF YOU MISSED IT FOR THE 30TH, NOW IS YOUR CHANCE!
Meet in the Cafeteria, off Longwood Drive. Parking near the back Bus Loop and Cafeteria where we used to park.
Friends and families welcome! Bring your kids and grandkids, too! The whole family! (You were a kid once, too!)
The building tour is approximately 2 hours and very informative. Wear comfortable shoes.
Please R.S.V.P. to dawnyreed@aol.com, NO later than July 22, 2019.
(We need a good turnout for this to take place about 30 alumni to participate and we are moving in the right direction!)
Saturday, July 27, 2019 (evening festivity)
80's PARTY HARDY
CLASS OF 1984
35TH HIGH SCHOOL REUNION  7 p.m.  Grindstone Tap House
826 Front Street in Berea
Wear your best bodacious 80's gear (not mandatory, no pressure, take a chill pill and just come as you are!)
Cash bar, free bad to the bone appetizers!  Music by DJ Freeze!
Cowabunga games like a 50/50 raffle, outdoor boss patio, kickin' music, total memories with your dudes/dudettes and more!
Please R.S.V.P. to dawnyreed@aol.com NO later than July 22, 2019, or confirm your reservation through our Facebook Event Page at:  Parma Senior High – Class of 1984.
Please, please join our Facebook Class Page At:
Parma Senior High School – Class of 1984 for up-to-date information, events and connect with your AWESOME peeps like me! DON'T BE